7 Ways To Survive the Baby Blues & Other Happy Challenges
by Jennifer Maurer, MA, CLC
I was going to write a blog about how pets support happiness and longevity by increasing our opportunities for companionship, exercise, playfulness and unconditional love.
I had planned to write a story about puppy love. Specifically, my new puppy love, Po. That little guy up there. Adorable isn't he?
But this not that blog.
Instead, after nearly four sleepless and scab-riddled weeks with "man's best friend," this is a blog about survival.
Watch Your Step on the Path to Happiness
In coaching vernacular, we call what I'm experiencing a "growth opportunity." I prefer how my mentor, Martha Beck, Ph.D., refers to this opportunity as the "death and rebirth" phase of the change cycle. This is a much more accurate description of what is going on, particularly during those 3 a.m. potty walks when it really feels like I am about to die.
This is a blog about how to cope when the path to happiness is littered with a lot more poop, carpet stains, cater (and dogger) wauling, and puncture wounds than you ever dreamed possible.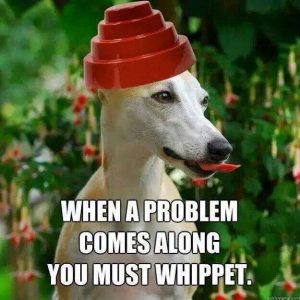 Yes, puppy ownership is survivable. So is parenting 2-legged babies. In fact, they are both downright thrivable when we have the right parenting strategies and resources in place. But they can both be a bit challenging at times.
Before I share my coaching-from-the-edge strategies, let me be clear: I am a lifelong pet lover. In fact, I was so smitten with my golden girl Holly that it took a year after her death before I was willing to consider another dog.
I am also the proud and grateful momma of two beautiful girls ages 17 and 13. I actually enjoy my relationship with my daughters now more than ever. Thankfully, the terrible teens haven't turned out to be so terrible after all.
Now, back to that 12-pound bundle of squirmy, bitey, barky love…
Surviving the New Baby Blues
Po has already provided my family with lots of love, laughter, companionship and, of course, puppy kisses.
He's also provided our family with numerous opportunities to practice "just say no" with a vigor that would make the former First Lady proud. He's trained us to sprint out of the house at any hour of the day or night (a skill that will come in handy if we ever have a fire). And he's helped us practice the art of letting go of our attachments—to our clothing, our furniture and our need for sleep.
Who knew so many growth opportunities could be packed into such a small package?!
And yet, when I'm finally able to sleep on it, I'm sure I'll conclude that these are indeed precious opportunities to express more unconditional love.
In the meantime, I've come up with some strategies to help my family survive the new baby blues. They are also helpful for moving through any major life change with a lot more ease and joy.
Seven Things You Can Do When Happiness Is Hard Work
Gather Your WWITs—It can be helpful to ask yourself, "What Was I Thinking?" or its more emphatic correlative, "What the Hell Was I Thinking?!" Take the time to answer that question. Benefit finding is an effective way to reduce stress in difficult situations. What did you hope to experience by marrying the love of your life, or by taking that promotion, or agreeing to head up your child's school fundraiser? In my case, I was thinking our family would benefit greatly from the playful companionship of a dog. And I know we will, if I can keep my WWITs about me.
Punctuate the Positive—When we are up against our growth edge, we naturally focus on what is challenging. Neuroscientists suggest we may tend toward a negativity bias under any circumstance. Luckily, we can train our minds by noticing, naming and highlighting (underlining or bolding) our positive experiences. My "pawsitives" include Po's wonderful trainability. In just a few weeks, he's mastered sit, down, stay and "walking pretty" (heeling) on the leash, which is especially helpful, because he needs LOTS of walks to wear out his puppy exuberance.
Find the humor—Sleep deprivation is no laughing matter. But if you can find a way to laugh about it or any other challenge you are facing, you are well on your way to improving your resilience, mood, optimism and overall health. I must admit, it has been funny to discover that every bite deterrent we try—from lemon juice to habanero sauce—is met with enthusiastic licks and more biting. On the upside, laughter is a natural pain reliever, which helps lessen the sting that comes from rubbing hot sauce on puppy-gnawed hands.
Arm yourself with knowledge (and long-sleeves)—Nothing motivates us to learn more quickly than a crisis. It's amazing how many books, blogs, YouTubes, store clerks and friends you can pump for information in between mopping up accidents, changing poopy diapers or faking your way through staff meetings. Learning is an essential survival strategy in our rapidly changing world. And, while you are getting up to speed, don't forget to dress for the mess. I've found long sleeves and sturdy jeans are a new puppy owner's second-best friend.
Explore your posse-bilities—Never underestimate the power of friends to get you through the rough times. Especially friends who have been in your shoes before or who are willing to stand in them now. Peer support is the cornerstone of thousands of support groups for everything ranging from breastfeeding to addictions recovery. You can discover new allies through care providers, professional networks, meetups and special interest activities. I'm personally looking forward to when Po is old enough to go to puppy obedience school and dog parks.
Make the BBBest of it—One of my favorite coaching tools is the 3 Bs: bag, barter or better it. If you are facing a daunting circumstance, it can be helpful to break it down into its smallest components. Determine what you can bag (eliminate altogether), barter (find someone else to handle) or better (modify to make less onerous). I've been able to barter the middle-of-the-night potty duties with my daughters. In exchange, I've agreed to take the early morning dog-walking shift. I'm bettering this by driving 3 extra miles so I can walk around a beautiful lake.
Take a Time Out (To Play)—When all else fails, take a time out to take a breath or two (better yet 10!). I can remember sending myself to my bedroom when my daughter was a toddler. Stepping away from the problem, literally, can help us reduce stress. Adding playfulness to these pauses can move us out of stress and into a more relaxed and centered place. Think of it as your daily dose of fun—one that can help you meet your happy challenges with more grace and joy.
Need a little more help?
Email us to learn how fun coaching can help you liberate more joy!