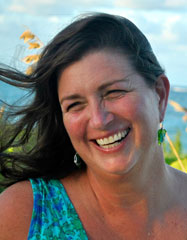 Ginny Hunneke, CIC, Head Conspirator & Fun Coach
Having experimented with all forms of fun, Ginny finally stumbled upon the true meaning of the word while wandering the deserts of Tucson, Arizona in search of some elusive normalcy in her life. It took a rattlesnake bite to her right index finger to reveal the truth that nothing about Ginny's life was or would ever be "normal," but that it could be full of joy.
So after years of experimenting with altered states (induced by a variety of different substances from alcohol to antidepressants) in search of answers and earning several advanced degrees from Knocksville University, Ginny discovered the healing powers of Authentic Fun.
In her current incarnation, Ginny is mother to a 17-year-old son, a vestry member at St. Luke's Episcopal Church, an Intrinsic Coach, and 25 years sober. She has shared the healing power of play in keynotes, workshops and events at Canyon Ranch, recovery programs, religious and nonprofit organizations, schools and in the broader community.
In previous incarnations, Ginny obtained a bachelor's degree from Wake Forest University, taught high school English, owned and operated a coffee house, served as volunteer coordinator at SciWorks in Winston-Salem and at RiverLink in Asheville, and studied Mesoamerican Shamanism. She was also a founder, board chairperson, and faculty member at Odyssey: A Community of Integral Education, Inc.
Ginny adores being outdoors with her son and her canine pal, Jorah, especially in a boat or on a trail. When she can get away, she indulges her lust for travel – particularly to the Yucatan Peninsula, remote islands of the Bahamas, and the Sonoran Desert.
"Thousands of candles can be lit from a single candle, and the life of the candle will not be shortened. Happiness never decreases by being shared." — Buddha
Contact Ginny for personal coaching support or to discuss how to bring more joy and inspiration to your family, workplace, organization or community.
Stephanie Novak, Wellness Educator & Conspiracy Consultant
Stephanie is a recovering "Type A" personality who has learned the hard way (through a few close encounters with burnout) that we are all entitled to joy and heartfelt abundance. As a parent of a 7 and 13 year old, Stephanie finds many opportunities to remember what Authentic Fun really is.
Stephanie has a degree Health Psychology and earned her master's in Health and Wellness Management. Since 1991, she has been an intentional health promoter and advocate for multi-dimensional wellness models and various forms of therapy and bodywork. Her expertise quickly drew her into the overscheduled world of non-profit management, education and wellness advocacy.
Always re-learning what she promotes, Stephanie is excited to be a part of The Fun Conspiracy and helping people find new ways to "connect the dots" (sometimes with finger paint and glitter). During her 12-year tenure at UNC-Asheville and as the Faculty & Staff Wellness Program Coordinator, Stephanie witnessed first-hand how powerful it can be to integrate play with fitness. Using this approach, she has been honored to help many people learn to enjoy the process of healing.
Stephanie knows it takes perseverance and a sense of humor to re-pattern ourselves to accept and allow joy. She is passionate about creating opportunities to experience joy through Authentic Fun and is a great resource for The Fun Conspiracy's community wellness activities.
"You can't change the world, but you can change your life." — John Lennon
…and Live-Love-Learn! — Stephanie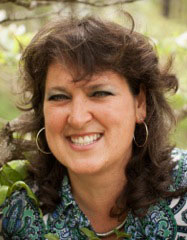 Peggy Farmer, PhD, Conspiracy Consultant
Dr. Peggy Farmer is an internationally known speaker, wellness consultant and facilitator with a passion for self empowerment and total well-being. She is the Director of Self Mastery International, an organization committed to igniting human potential both personally and professionally.
Dr. Farmer delves deeply into the heart of issues so individuals and organizations can co-create innovative, practical solutions to challenges in the workplace. She facilitates women's wellness retreats, corporate retreats, provides keynotes and seminars and executive coaching. She is the author of "Exploratory Surgery of the Soul, a Journey to Self Mastery" and co-authored "Maintaining Balance in an Unsteady World". She has produced relaxation CDs, a guided imagery DVD and combines her expertise in psychology, health care, wellness and management consulting experience to better serve the needs of her clients, organizations and community.
Peggy completed her undergraduate and graduate work at University of South Florida in Psychology and Anthropology and completed a Ph.D. in Holistic Health and Nutrition with a focus on Psychoneuroimmunology. Her experience working with the body/mind connection has been a great resource and inspiration for The Fun Conspiracy's educational programs.
Joy is her calling card!!
---