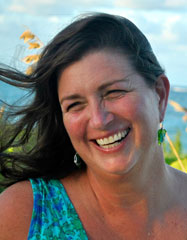 Ginny Hunneke, CIC, Head Conspirator & Fun Coach
Having experimented with all forms of fun, Ginny finally stumbled upon the true meaning of the word while wandering the deserts of Tucson, Arizona in search of some elusive normalcy in her life. It took a rattlesnake bite to her right index finger to reveal the truth that nothing about Ginny's life was or would ever be "normal," but that it could be full of joy.
So after years of experimenting with altered states (induced by a variety of different substances from alcohol to antidepressants) in search of answers and earning several advanced degrees from "Knocksville" University, Ginny discovered the healing powers of Authentic Fun.
In her current incarnation, Ginny is mother to a 22-year-old son, an Intrinsic Coach, and 29 years sober. She has shared the healing power of play in keynotes, workshops and events at Canyon Ranch, recovery programs, religious and nonprofit organizations, schools, and in the broader community.
In previous incarnations, Ginny obtained a bachelor's degree from Wake Forest University, taught high school English, and owned and operated a coffee house. She has served as volunteer coordinator at SciWorks in Winston-Salem and at RiverLink in Asheville, and as a vestry member at St. Luke's Episcopal Church. While studying Mesoamerican Shamanism, she was a founder, and served as board chairperson and faculty member at Odyssey: A Community of Integral Education, Inc.
Ginny adores being outdoors with her son and her canine pal, Jorah, especially in a boat or on a trail. When she can get away, she indulges her lust for travel – particularly to British Columbia, remote islands of the Bahamas, and the Sonoran Desert.
"Thousands of candles can be lit from a single candle, and the life of the candle will not be shortened. Happiness never decreases by being shared." — Buddha
Contact Ginny for personal coaching support or to discuss how to bring more joy and inspiration to your family, workplace, organization or community.
---