Authentic Fun Is My Religion
by Ginny Hunneke
Raised in the church of pew aerobics, this cradle Episcopalian may be committing heresy.  While I attend services regularly, I cringe and bristle at the label "religious." I've just never seen myself that way—until I adopted a different perspective. As many of us Episcopalians are, I am more interested in the metaphorical use of the word "religion."
For the sake of being playfully poetic and purposeful, let's play with the idea that religion is simply a path. Maybe it's a stretch, but it's one that feels good to me!
Play as a Spiritual Path
So, can a spiritual path of play elevate fun to a religion? In an expansive mindset, perhaps so! If we can entertain the possibility that religion is a path, then perhaps we can also embrace the idea that this path is designed to lead us in some general direction.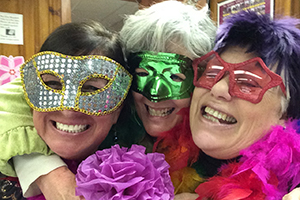 Whether it's singing my heart out to hymns in church or tilting an ear to a choir of crows in the forest, Joy is that general direction I seek—that communion with creation and mystery, cyclical harmony, and an imaginative palette that exceeds anything I alone—or the brilliant Crayola color creators—am capable of concocting.
(I confess that it may not be a fun experience to listen to me sing in church unless you are tone deaf or share my playful tolerance for cacophony.)
Being playful is a way to experience Authentic Fun, as we say at The Fun Conspiracy, the consequence of which is Joy.
"Joy, rather than happiness, is the goal of life, for joy is the emotion which accompanies our fulfilling our natures as human beings. It is based on the experience of one's identity as being of worth and dignity." —Rollo May, PhD, author of  Love and Will
"I think that anything that begins to give people a sense of their own worth and dignity is God." —Bishop John Shelby Spong
Play is how I connect with God most fully. While I don't claim to be able to define God, I certainly can't deny the ineffable presence of God.
I honor that every spiritual tradition calls us to the experience of Joy.  In rejoicing, I am overwhelmed with the desire to connect with the Divine, the Universe, the Great Spirit, the Collective Consciousness, the Unknowable Source, and a Higher Power. And when I play, I rejoice in sharing and observing the fun, beauty and mystery of the Divine in others!
"These things have I spoken unto you, that my joy might remain in you, and that your joy might be full. This is my commandment, That ye love one another, as I have loved you." —Jesus Christ (John 15:11-12)
Authentic Fun as a Path to Joy
For me, playful participation in Authentic Fun helps us to share that Love and
be fully present and engaged in the moment,
experience awe, wonder, and delight,
be open to endless possibilities and curious to explore them,
feel free from self-consciousness and external judgments,
experience our creative and imaginative spirits,
connect with others in heart space, and
have a sense of belonging to something greater than ourselves.
So how can we playfully engage in Authentic Fun?
Because play involves spontaneity, imagination, creativity and collaboration, there are no hard-and-fast rules or Commandments written in stone for Authentic Fun. But I believe there are a few guiding principles we can follow to discover the birth of Joy in ourselves and others.
Guiding Principles for Authentic Fun:
Engage in fun for its own sake. It's not about competition, winning a prize, or defeating an adversary. It's about sharing connections and cultivating Joy.
Avoid self-deprecating humor, sarcasm, and cynicism and forms of humor that focus on negative aspects of being. In pointing out negative aspects of anything, we create distance and dissonance, hardly conditions to cultivate joy and elevate positive energy.
"I think, when it comes to profundity, spirituality and religiosity, playfulness is most definitely not only possible, but perhaps the only reasonable approach." —Bernard De Koven, author of A Playful Path
The goal of Authentic Fun is to connect with our joyful selves. Joy is a blessing.
In this season of Lent, many Christians are called to give up those things that separate us from the experience of God. As we create spaciousness through the removal of those obstacles, I propose that we enhance that expansive experience by inviting Authentic Fun into our lives and liberating joy as we prepare for the season of rebirth: Easter!  For me, the Easter season most fully celebrates awe and wonder, the mystery of life, creativity and endless possibilities—the essence of a playful Spirit!