Asheville Youth Poets Take on a Happy Challenge
by Jennifer Maurer
On Nov. 1, some of the area's best youth slam poets, sponsors, judges and fans showed up to our first annual Cosmic Happy Slam.
It is probably fair to say that some of us showed up with more than a few doubts.
Could we really devote an entire poetry slam to Happiness?
And if we did, would our poets be able to avoid stepping (or diving headlong) into the quicksand of sickly sweet greeting-card sentiments, overused affirmations, or back-handed sarcasm masquerading as humor?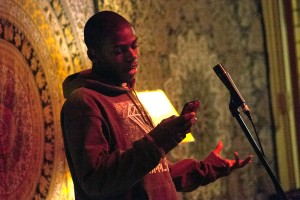 I tried to recall my own slam fiction days in offbeat coffee shops in downtown Denver. Even looking back with rose-colored glasses and a generous passage of time (don't ask how generous), those were dark days. My recent foray into the local youth slam scene confirmed that they still can be.
WNC's youth slam poets are incredibly talented and have competed nationally for several years running. But make no mistake, these poets are equally brave, giving powerful voice to painful human experiences including racial and social inequality, heartbreak, abuse and despair.
A Happy Slam? Seriously, what were we thinking?!
Well, we were thinking about the strong body of research that shows we can improve our overall happiness and resiliency when we cultivate positive attitudes and behaviors such as expressing more gratitude, reframing challenges, and positive self talk.
And while these research findings have inspired the development of an entire field called positive psychology (not to mention best sellers like The Happiness Project), they haven't yet found their way into popular slam culture.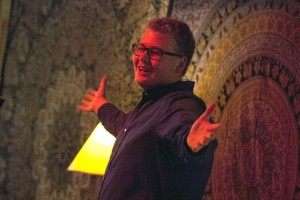 Slam master and Brave New Voices team member, Liam Kelley Black, acknowledged this strange new territory we were exploring. With the unshakable confidence only a competition slammer can muster, Liam invited everyone to leave their drama at the door and open to the possibility that a poetry slam could embrace happiness, that other emotion, with poetic integrity.
This was, after all, an official Soulspeak Asheville competition event, eligible for points and prizes, and nothing less was expected of the poets.
With the challenge and the stage set, slam sponsor and The Fun Conspiracy founder Ginny Hunneke led the poets and audience in a happiness meditation while the competitors prepared to take the mic. And take the mic they did, but not before Liam sacrificed himself to the poetry gods (and our panel of five judges) by offering up a hysterical poem about his cat's misadventures on the prowl.
Seven poets from five area middle and high schools competed in the first round, slamming on everything from growing up in a pun-infested family, the joys of a dog's life, Tumblr and olive oil to the happiness we can experience when we embrace our own uniqueness.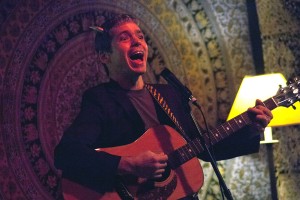 In between rounds, Happy Slam judge and nationally acclaimed performance poet and educator Allan Wolf invited the audience to join him in a musical ode to Haiku with playful lyrics, an acoustic guitar and audience participation that had everyone laughing and blessing in poetic 5-7-5 measure.
The competition featured a lightning round with five poets spitting out 90-second happy poems before moving into the final competition round and the biggest belly laughs of the night.
The final round was closely contested, with fractional points separating first, second and third place.
In the end, Asheville High's Evan Dowty took first place with his poem about the beauty available in each molecule of the cosmos, nailing the cosmic happy theme with the precision of an astrophysicist.
Francine Delany's Nicolai Rollet took second place with his brave confession that his love of all creatures, great and small, includes serving them for dinner. Delany's Lila Richardson took third place with an amusing deconstruction of Pharrell William's "Happy" song which proved even funnier than the song.
In partnership with The Fun Conspiracy, Evan, Nicolai and Lila raised $300 in support of three local charities: Brother Wolf Animal Rescue, Kairos West Community Center, and World Camp Inc.
 
So, what were we thinking when we decided to sponsor a happy slam?
We were thinking that if anyone can bring happiness to challenging situations, these talented kids could. And they did, for all of our benefit. And that has made me very happy and more than a bit hopeful.
In fact, we're already thinking about our second annual Cosmic Happy Slam!
Photography by Gillian Maurer. Click here to see more Cosmic Happy Slam photos.